In the US presidential election, Indian-origin Kamala Harris has been appointed as the Vice-Presidential candidate by the Democratic Party. She will be the first black woman to contest for this post. His roots have been in India and he has always expressed it.
Kamla has been the Attorney General of California and she is a very strong supporter of police reform. Biden, who is contesting the presidential election from the Democratic Party, described him as 'a brave warrior and one of America's best bureaucrats'.
Kamala Harris's maternal grandfather belonged to the Brahmin family of Chennai. His name was PV Gopalan. He was an officer in the Indian Public Service. He also served for the government in Zambia. Gopalan's elder daughter Shyamala went to study in America. Kamala is the daughter of the same brunette.
Kamala Harris giving a speech at a program.
Kamala's mother was a cancer scientist
Kamala Harris's mother Shyamala was a scientist in the field of cancer. Father Donald Harris was Jamaican. Kamala was born in America. However, the parents later divorced. Indian rites have always dominated the family. These rites also came deep in Kamla. Kamala is generally proud of herself being of Indian origin. He never tried to hide it.
Also read – If the snow falls in winter, how will our soldiers stay on the border this time?
Progressive thoughts from childhood
Kamla shared her childhood memories in one of her 2019 memoir 'The Truths We Hold', writing that her maternal grandfather Gopalan had risen to stellar rank. He was involved in freedom struggle but not openly. He used to do whatever he could while in the job. After Madras, he served in Delhi, Bombay and even up to Calcutta.
Kamala has been coming to India often
When Shyamala was divorced in the 1970s, she often brought her two daughters Kamla and Maya to India. Born in 1964, Kamla used to take a walk with Nana's retired friends during her childhood and used to voice progressive thoughts about the restoration of democracy and the fight against corruption. According to Kamala, his maternal grandfather was a strong advocate of civil rights and advocated for the fight for equality and respect.
Also read – 11 August 1947: Jinnah became the President of Pakistan, crowded at railway stations
According to Kamla, his maternal grandfather Gopalan was a lively and well-liked person, who taught the children to play poker and also to eat it secretly from his grandmother, even if he was not a vegetarian. Kamla said in an interview, 'My grandfather has been one of my favorite personalities in the world'.
Kamala's inspiration was also inspired by Nana's mother
Kamala's mother Shyamala married Jamaica-based Donald in the 1960s in his will. The resentment of the family was not from the fact that he married an African, but because the family was not told about it earlier. At that time, Shyamala was one of the very few Indian women who were highly educated and took their own decisions abroad.
According to the report published by Kamla's maternal uncle Balachandran, the LA Times reported that Shyamala had a great influence on her father Gopalan's personality and values, and that Kamala got the same from Shyamala. Shyamala was a skilled singer and used to sing on the radio from an early age. At that time, the money received from them used to be kept by Gopalan Shyamala. While studying in the US, then in the 1960s, Shyamala was active in the movements related to the rights of 'black' people and fought for equality.
Also read – 10 August 1947: Gandhi, a Hindu who became the President of Pakistan Constituent Assembly, stayed in Kolkata
When Kamla was a child of 4 to 5 years, her parents shifted to Zambia for some time, where Kamala's maternal grandfather Gopalan was also posted at that time. Along with Nana, Kamla sees the memories of that time as an early lesson in life.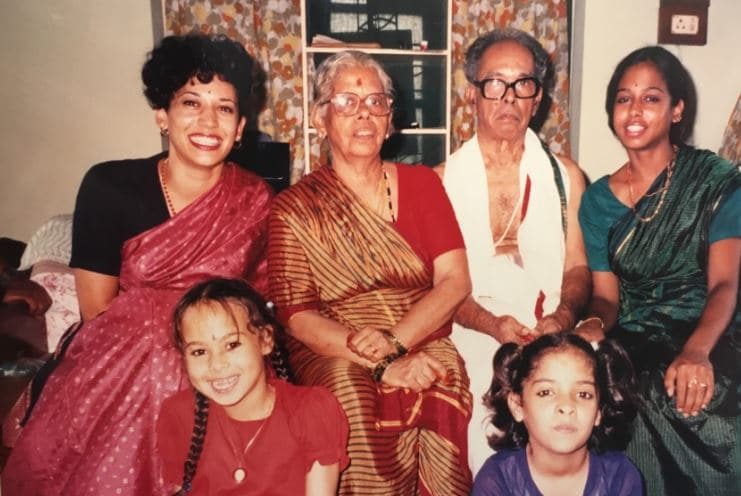 This memorable picture of Kamala Harris with her maternal grandfather, grandmother, sister and relatives of Nanihal has been published by LA Times.
The entire family was progressive!
After Kamla's maternal uncle Balachandran, who lived in India, remained highly educated in America, he remained connected with education in India. Balachandran married a Mexican woman. Kamla, an aunt of Kamla, was skilled in obstetrics and remained unmarried throughout her life. Another aunt Mahalaxmi was an information scientist in Canada. Kamla says that in her growing age she used to see everyone in her family and felt that no one had traditional views. According to Kamala, who married in 2014 at the age of 50
When you grow up in a family, then with age you realize how different your family could have been. But it was normal for me to be separated. As I matured, I realized how progressive people all were.
Effect on Kamala
From childhood, Kamala got values ​​and thoughts from her maternal grandfather and mother's whole family. Apart from this, while living in America, she grew up visiting both church and temple together. Rising from religion, caste and creed and talking about equality and respect for all, it can be understood that Kamala's personality has been a natural part.
.